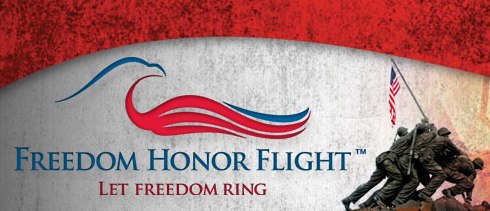 Freedom Honor Flight is a La Crosse-based organization founded in April of 2008 and has expanded its service to serve Rochester, Minnesota area veterans. Freedom Honor Flight previously shared part of its service area with a Rochester-based hub, which is no longer operating. Our goal is simple: to fly our veterans to Washington D.C. to visit the memorials that stand in their honor.

Freedom Honor Flight provides this trip free to veterans as a tribute for their service. A trip which is beyond the reach of many veterans due to cost and physical limitations.
Veterans are chosen for the trip on a first-come, first-served basis with priority given to WWII and Korea veterans and veterans with a terminal illness. The trip is all in one day, spending several hours at the World War II Memorial, and visiting other Washington D.C. landmarks such as the Korean War Memorial, Vietnam Wall, Lincoln Memorial, the Marine Corps War Memorial and others as time permits.

All veterans on a flight are accompanied by trained volunteer guardians, who assist veterans for the day. Physicians and paramedics accompanying each flight help with oxygen, medication and personal needs, enabling those with chronic health problems or disabilities to attend. A guardian assigned to each veteran provides additional assistance.
Freedom Honor Flight is supported solely through donations and run by volunteers. They have no paid staff. The volunteers coordinate fundraising, communication with veterans and volunteers, training, medical supervision, travel to and from Washington D.C., and all transportation, activities and meals in Washington D.C. Freedom Honor Flight will continue to organize flights as long as they have the financial support to do so.

Many organizations and individuals support Freedom Honor Flight through fundraising events. Please visit their website and Facebook regularly for event information. Thank you for attending the many fundraising events that support them!
Freedom Honor Flight is an affiliate of the national Honor Flight Network, which began in 2005 in Dayton, Ohio. There are now about 40 "hubs," or cities from which flights originate around the country. National Honor Flight Network provides us with technical and travel support and helps arrange activities in Washington D.C.
Contact them
Because they are an all-volunteer organization, they are not available to answer questions at all business hours. Please call 608-784-1015 and leave a voicemail message with your name and phone number. You can also email them at info@freedomhonorflight.org. They will respond as quickly as possible—usually within a few days.
You may also contact James Haugen at 507-273-0366 haugfour@gmail.com of the Lanesboro American Legion Post # 40 or the Legion at 507-467-3440 for upcoming flight dates and details.

"HONOR FLIGHT - ONE LAST MISSION"
AN EMOTIONAL MUST SEE!! This documentary tells us that most of soldiers "came home from the war, put their duffle bags in the basement and went out and got jobs" and never talked about their experiences. We are losing those Veterans at the rate of over 900 per day. Their stories and experiences are going with them. This documentary got the Veterans to open up and talk about it, many for the first time. We have the freedom we have today because of them, and we need to hear their stories.
The movie (84 min) is now available for viewing at no charge. Movie may be taken home or viewed upstairs. Movie must be reserved and signed out. Contact the bartender 507-467-3440 for details.
[ Return to top ] [ Return to Helpful Links ]

Updated 04/27/17